Lago Subglacial Ellsworth
Exploración geofísica In situ del Lago Subglacial Ellsworth, Antártica
Lago Subglacial Ellsworth, Fuente: Siegert et al, 2005
Objetivos de la campaña
• Medir la superficie y topografía subglacial
• Delineación del Lago Subglaciar Ellsworth
• Instalación de una red de balizas para futuras mediciones de balance de masa
• Recolección de muestras de nieve para el análisis biológico
Instrumentos de medición
• Radar de la Universidad de Kansas: Tarjetas de 150 MHz
• Radar CECs: GSSI modelo SIR3000 de 400 MHz
• GPS del CECs receptores de frecuencia dual : JAVAD modelo Lexon GD
Itinerario de la campaña
• 29-12-2005. Un primer grupo de científicos vuela a Patriot Hills para la preparación e instalación de equipos y módulos
• 09-01-2006. El resto del grupo se traslada a Patriot Hills a bordo de avión Ilyushin de ALE.
• 11-01-2006. Comienzo de travesía trerrestre.
• 16-01-2006 al 19-01-2006. Mediciones en área del Lago subglacial Ellsworth
• 19-01-2006. Retorno a Patriot Hills.
• 23-01-2006. La travesía se termina, todo el mundo en Patriot Hills.
• 28-01-2006. Evacuación total desde Patriot Hills.
Desde Punta Arenas a Patriot Hills (80°18'S 80°30'W)
Track de la travesía del lago subglacial Ellsworth
Fotografías de la travesía
Campañas al área del Lago Subglacial Ellsworth
Mediciones de radar alrededor de lago subglacial Ellsworth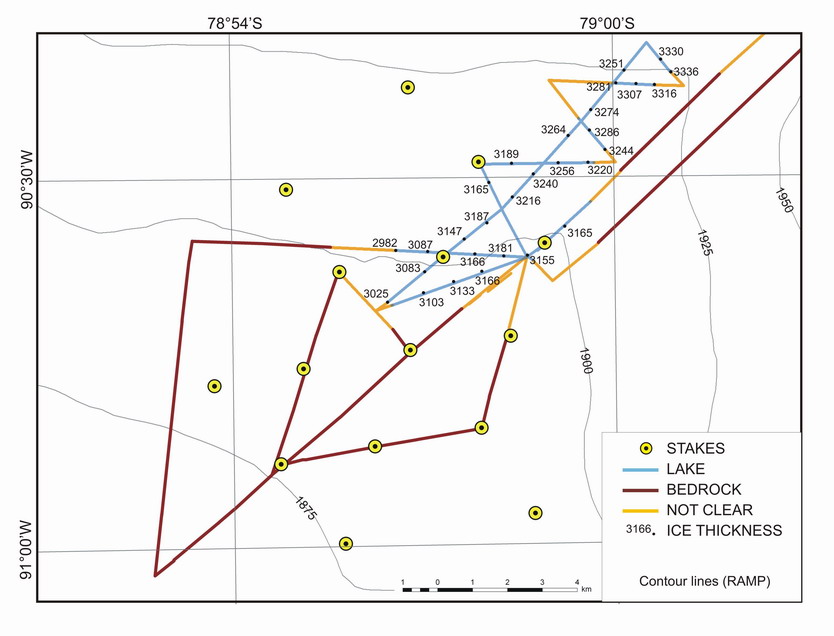 Bed elevation in the vicinity of Subglacial Lake Ellsworth close to 79°S90°W (perimeter shown in white).The location of other lake-like reflectors identified in the 2004/05 survey are indicated by white crosses. Inset shows the distribution of data from 2004/05 (black lines), 2005/06 (grey lines), and earlier surveys (black dots, the 1977/78 flight is highlighted by dashed line). 2004/05 and 2005/06 data over-printed with red where lake-like reflectors were observed.
RMS-variance in hydrological head for 2004/05 (black diamonds) and 2005/06 (grey squares), assuming an ice-density of 920 kg/m³. RMS-variance implied by the density of seawater (1041 kg/m³ at 28 MPa) is higher than expected from the uncertainties implied by the crossover analysis, 2.36 m and 2.56 m respectively.
Hydrological head around SLE. Lake perimeter is shown by white line, and inset shows hydrological head along the profile from SLE to the lower lake at X. Note: the profile shows no significant barrier to flow from SLE to the lower lake.
Conclusiones
• Varios perfiles de radar y GPS permite una mejor delimitación del lago subglacial.
• Una red de balizas se instaló en la zona para el futuro seguimiento de las velocidades de hielo.
• Los resultados preliminares muestran un lago subglacial estrecha (10 km de largo y de 2 a 4 km de ancho) que ocupa un profundo fiordo de tipo zanja.
• El lago se encuentra bajo un espesor medio de hielo de 3.185 m, y la interfaz lago / hielo está a 1300m 'por debajo del nivel del mar'.
• Esta expedición demostró los beneficios de operar desde Patriot Hills en estrecha colaboración con la empresa privada 'ALE' .
Esta expedición fue concebida y organizada por el Centro de Estudios Científicos, Valdivia, Chile (CECs) y la empresa privada Adventure red (Antártica y Logísticos Expeditions, ALE) , con el apoyo financiero del Ministerio de Defensa de Chile y la colaboración del Ejército de Chile, Fuerza Aérea de Chile, Universidad de Kansas, Universidad de Bristol y el National Institute for Polar Research of Japan (NIPR).
Referencias
Vaughan, D. G., A. Rivera, J. Woodward, H. F. J. Corr, J. Wendt, and R. Zamora (2007). "Topographic and hydrological controls on Subglacial Lake Ellsworth, West Antarctica." Geophys. Res. Lett., 34, L18501,doi:10.1029/2007GL030769.
Ross, N., M. Siegert, J. Woodward, A.M. Smith, H.F.J. Corr, M.J. Bentley, R.C.A. Hindmarsh, E.C. King, and A. Rivera (2011):"Holocene stability of the Amundsen-Weddell ice divide, West Antarctica." Geology, doi:10.1130/G31920.1.
Ross, N., M. Siegert, A. Rivera, M. Bentley, D. Blake, L. Capper, R. Clarke, C. Cockell, H. Corr, W. Harris, C. Hill, R. Hindmarsh, D. Hodgson, E. King, H. Lamb, B. Maher, K. Makinson, M. Mowlem, J. Parnell, D. Pearce, J. Priscu, A. Smith, A. Tait, M.Tranter, J. Wadham, W. Whalley, & J. Woodward. (2011): "Ellsworth Subglacial Lake, West Antarctica: A Review of Its History and Recent Field Campaigns." In: Martin J. Siegert, Mahlon C. Kennicutt II, and Robert A. Bindschadler (Eds.). Antarctic Subglacial Aquatic Environments, AGU Geophysical Monograph Series 192, pp. 221-233.